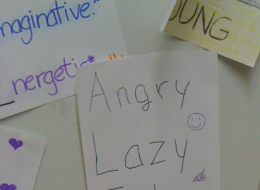 I saw this photo essay on Huffington Post, and it resonated with me somehow. (Actually, not surprisingly…)
The kid's name is Alex.  A-L-E-X.
I hope s/he is doing ok. I hope the smiley face means this was all done tongue in cheek. Perhaps it is a clever maneuver, a sarcastic comment on, a protest against this ubiquitous school project.